News
Mobilization Update: Let's Support Fair Pay at AA!

Bargaining between our unions, the CWA-IBT Association, and American Airlines begins tomorrow, October 4, in Dallas and continues through Thursday.
It's time to show our Bargaining Teams and the Company that we are united and ready to fight for the fair pay, affordable health care, and seniority rights that we deserve.
Here's how you can get involved right away:
1. Show your support by taking a selfie or a group picture with your co-workers and emailing it to us at info@American-Agents.com. Be sure to include your name and work location in the email. We'll share the photos on social media throughout the week. You can also click here to download a sign to hold in the picture.
2. If you post your selfie or group shot on your own social media accounts, whether it's Facebook, Instagram, or Twitter, use the hashtag #AAFairPay so we can see and share your posts.
3. Follow us on Facebook where you can like and share our updates and other bargaining related content. And follow CWA on Twitter and Instagram, where we'll be sharing updates as well.
Let's show our Bargaining Teams, our fellow members, and the company that we are standing together for the improvements we all deserve!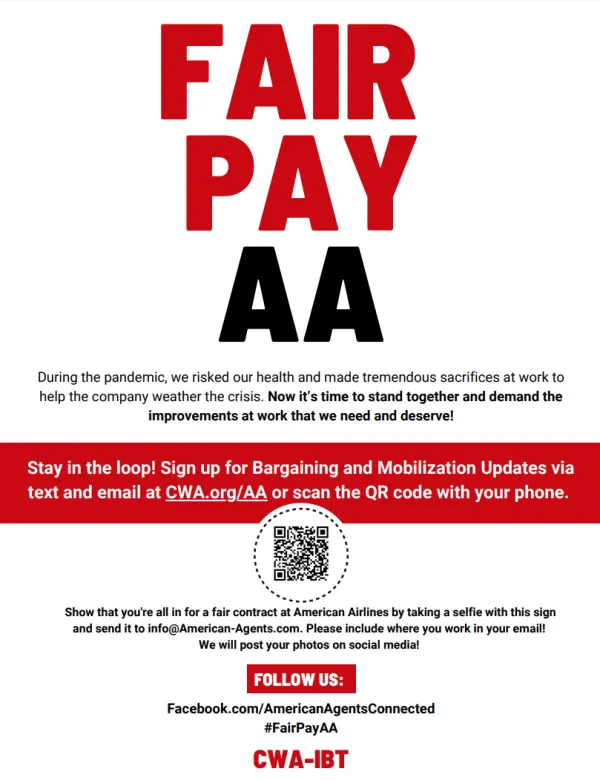 CWA-IBT Bargaining Update #9
Remembering Passenger Service Agents Edwards and Hudson