News
Congratulations are in Order!
June 9th, 2015
We're proud to announce that local unions representing our amazing passenger service agents at the new American Airlines received recognition at the 75th CWA Convention this week. We were delighted to accept the President's Award for Organizing in recognition of our major union victory last fall. 
We hope that we have inspired our sisters and brothers at CWA as much as they continue to inspire us every day. Thank you for this honor!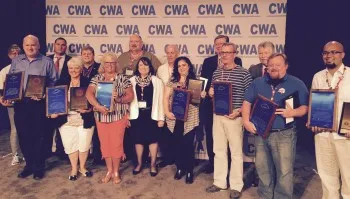 CWA-IBT Bargaining Update #9
Remembering Passenger Service Agents Edwards and Hudson