News
Bargaining Update #2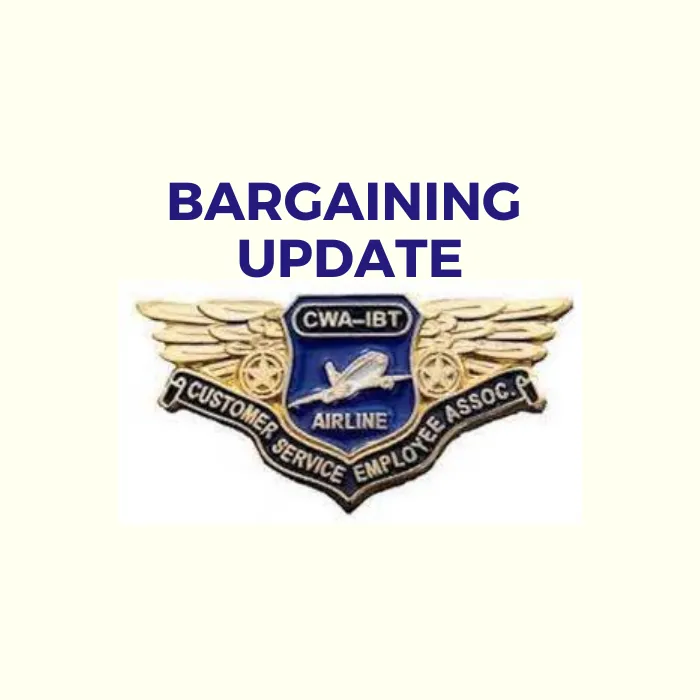 Our CWA-IBT Association Bargaining Committee met with American Airlines management on October 4-6 in Dallas in our first round of bargaining for a new contract.
The American Airlines Committee included Lynn Vaughn, Director of Labor Relations; Jerry Glass, Chair; Linda Brochetti-Kirby, Labor Relations; Cindy Meister-Diaz, Labor Relations; John Kashchy, Airports; Maryam Ali, Reservations; Sarah Mahood, Premium Service; Ellen Perlioni, Legal Airport; and James Cespedes, Legal Reservations. We are now in bargaining at the same time as the Allied Pilots Association (APA) and the Association of Professional Flight Attendants (APFA), who have been bargaining since the start of the pandemic.
In this first round, our union presented proposals on:
Article 1, Purpose
Article 3, Recognition & Scope
Article 5, Hours of Service
Article 6, Customer Service Overtime
Article 7, Reservations Overtime
Article 10, Temporary Employees
Article 17, Leaves of Absence
Article 22, Probation
Article 23, Uniforms
Article 25, Grievances
Article 26, System Board
Article 30, Safety
The company responded to Articles 1, 10, 17, and 30. However, no agreements were reached.
The support for our bargaining teams shown by members from across the country has been incredible. What a show of solidarity! Check out some of the great pictures we received by clicking here.
Keep sending in your pictures to Info@American-Agents.com. When you post your own Solidarity Selfies on social media, use our hashtag #AAFairPay so we can share them.
Our next bargaining session is coming up on November 1-3 in Dallas.
Stay informed about our progress in bargaining as well as mobilization activities. Make sure we have your personal email address and cell phone number by filling in this form. And share this message with co-workers who may not already be on our email and text lists.
Be sure to follow us on Facebook.com/AmericanAgentsConnected where you can like and share our updates and other bargaining related content. Follow CWA on Twitter and Instagram, where we'll be sharing updates as well.
Mobilize to Send An S.O.S to Save Our Scope